Platform-Independent Autonomy Modeling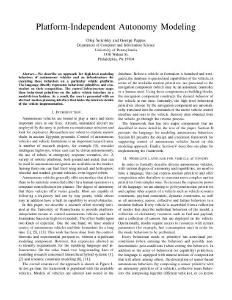 Penn collection
Departmental Papers (CIS)
Subject
Autonomy
model-based design
behavioral modeling
Contributor
Abstract
We describe an approach for high-level modeling behaviors of autonomous vehicles and an infrastructure for executing these behaviors on a particular vehicle platform. The language directly represents behavioral primitives and constraints on their composition. The control infrastructure maps these behavioral primitives on the native vehicle interface in a model-driven fashion. As a result, the user is presented with an abstract motion planning interface that hides the intricate details of the vehicle implementation.
Conference name
Departmental Papers (CIS)
Date Range for Data Collection (Start Date)
Date Range for Data Collection (End Date)
Digital Object Identifier
Comments
Presented at the 4th International Conference on Intelligent Systems Design and Applications 2004 (ISDA 2004), Budapest, Hungary, August 26-28, 2004.
<br>Presented at the 4th International Conference on Intelligent Systems Design and Applications 2004 (ISDA 2004), Budapest, Hungary, August 26-28, 2004.<br><p>
Collection