Evaluation of the GLINK Chip Set as a Data Link Layer for Local ATM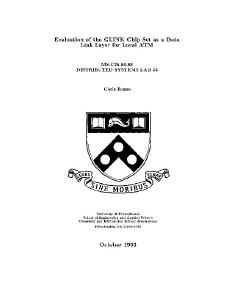 Contributor
Abstract
The introduction of the HDMP-1000 Gigabit Rate Transmit/Receive (GLINK) Chip Set by Hewlett-Packard has provided a hardware device capable of matching SONET STS-3c up to nearly STS-24c rates over either coaxial cable or optical fiber. The capability enables high speed local communication over a low cost medium, and lends itself well to use as both the physical and the data link layers for ATM in a local (few hundred feet) environment. This paper analyzes the capabilities of the GLINK chip set in terms of link length and data rate trade-offs, and in terms of its usefulness as a physical and DLL for local ATM.
Date Range for Data Collection (Start Date)
Date Range for Data Collection (End Date)
Digital Object Identifier
Comments
University of Pennsylvania Department of Computer and Information Science Technical Report No. MS-CIS-93-88.
Collection