Experimental Study of Issues in End-to End QoS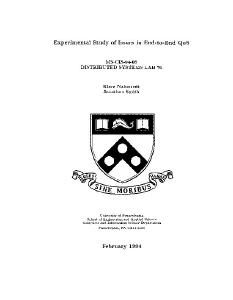 Files
Contributor
Abstract
Quality of Service (QoS) guarantees for 'delay sensitive' networked applications must be end-to-end. This paper presents an experimental study of this class of applications where the endpoints are computer workstations. The experiments show that operating system effects dominate any jitter in the network. Our conclusion is that QoS provision by the workstation operating system is as important for maintaining end-to-end guarantees as is network QoS. In local-area settings, operating system influences may be more challenging for end-to-end QoS than network influences. The important influence variables are the degree of multiprocessing, the employed transport protocol (e.g. UDP or TCP), and the priorities assigned to processes.
Date Range for Data Collection (Start Date)
Date Range for Data Collection (End Date)
Digital Object Identifier
Comments
University of Pennsylvania Department of Computer and Information Science Technical Report No. MS-CIS-94-08.
Collection