SodaJack: An Architecture For Agents That Search For And Manipulate Objects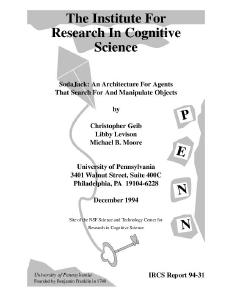 Penn collection
IRCS Technical Reports Series
Contributor
Abstract
This paper presents an architecture for agents that search for and manipulate objects. It is demonstrated in the SodaJack system, a system that animates a human working at a soda fountain. The system is constructed as a set of three interacting planners. Two of these planners are special-purpose modules which contribute context-specific plans for the tasks of searching for and manipulating objects. The search planner is used to convert knowledge acquisition goals into goals of searching locations. An object specific reasoner is used to build object sensitive plans for manipulating specific objects. Finally, an incremental hierarchical planner is used to integrate these two special purpose planners into a complete system which interleaves planning and acting.
Date Range for Data Collection (Start Date)
Date Range for Data Collection (End Date)
Digital Object Identifier
Comments
University of Pennsylvania Institute for Research in Cognitive Science Technical Report No. IRCS-94-31.
Collection