Challenges in the Regulatory Approval of Medical Cyber-Physical Systems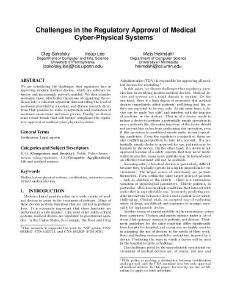 Penn collection
Departmental Papers (CIS)
Subject
CPS Medical
Verification
Legal aspects
Medical cyber-physical systems
certification
assurance cases
virtual medical devices
Software Engineering
Contributor
Abstract
We are considering the challenges that regulators face in approving modern medical devices, which are software intensive and increasingly network enabled. We then consider assurance cases, which o er the means of organizing the evidence into a coherent argument demonstrating the level of assurance provided by a system, and discuss research directions that promise to make construction and evaluation of assurance cases easier and more precise. Finally, we discuss some recent trends that will further complicate the regulatory approval of medical cyber-physical systems.
Conference name
Departmental Papers (CIS)
Date Range for Data Collection (Start Date)
Date Range for Data Collection (End Date)
Digital Object Identifier
Comments
International Conference on Embedded Software (EMSOFT 2011), Taipei, Taiwan, October 2011.
Collection