(In)Forming and Pressing Matters: Laying the Foundations for the Preservation and Interpretation of the Western Clay Manufacturing Company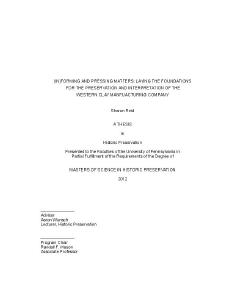 Graduate group
Theses (Historic Preservation)
Subject
archie bray sr.
charles bray
brickmaking
structural and hollow clay tile
montana
Historic Preservation and Conservation
Contributor
Abstract
In the United States, brick and tile manufactories were once ubiquitous. Currently, the number of extant late nineteenth- to early-twentieth century complexes devoted to the production of brick and tile products is negligible. Of the few remaining historic manufactories, none evidences what can be found at Helena, Montana's shuttered Western Clay Manufacturing Company (Western Clay): three generations of kiln technology and numerous intact principal buildings, machinery, and infrastructural elements related to the production of structural and hollow clay tile. Since its closure, Western Clay's place in historical memory has suffered attrition. Concomitantly, the greater public's understanding of this manufactory has diminished. Still, this site is poised to tell the little-known but important social, technological, and industrial histories of late nineteenth- and early-twentieth century brickyards. Through in-depth historical research, this thesis will illuminate the significance of Western Clay and begin to reinvest the site with historical memories. In an effort to revitalize, not elide important histories through the removal of buildings, machinery and infrastructural elements that might otherwise fulfill important mnemonic functions and provide both identity constructing and educational functions for both present and future generations, this work also furnishes the manufactory's stewards and supporters with a site-specific, historically informed rationale for future preservation decision-making. This rationale is grounded in author and preservation professional Ned Kaufman's concept of "storyscapes." It is also informed by both the aforementioned body of historical research and a general conditions assessment that was created during the summer of 2011.
Date Range for Data Collection (Start Date)
Date Range for Data Collection (End Date)
Digital Object Identifier
Comments
<p>Suggested Citation:</p> <p>Reid, Sharon (2012). <em>(In)Forming and Pressing Matters: Laying the Foundations for the Preservation and Interpretation of the Western Clay Manufacturing Company</em>. (Masters Thesis). University of Pennsylvania, Philadelphia, PA.</p>
Collection