A General Resource Framework for Real-Time Systems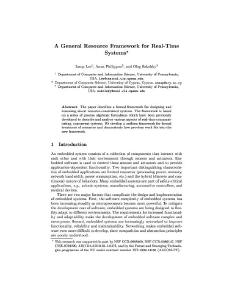 Files
Penn collection
Departmental Papers (CIS)
Subject
Resource modeling
real-time systems
process algebra
Contributor
Abstract
The paper describes a formal framework for designing and reasoning about resource-constrained systems. The framework is based on a series of process algebraic formalisms which have been previously developed to describe and analyze various aspects of real-time communicating, concurrent systems. We develop a uniform framework for formal treatment of resources and demonstrate how previous work fits into the new framework.
Conference name
Departmental Papers (CIS)
Date Range for Data Collection (Start Date)
Date Range for Data Collection (End Date)
Digital Object Identifier
Comments
Presented at the Monterey Workshop, Radical Innovations of Software and Systems Engineering in the Future, October 8-11, 2002.
<br>Presented at the Monterey Workshop, Radical Innovations of Software and Systems Engineering in the Future, October 8-11, 2002. <br><p>
Collection