Process-Algebraic Interpretation of AADL Models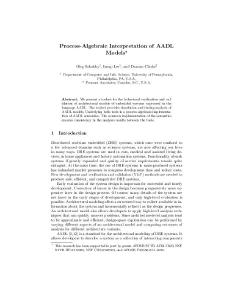 Penn collection
Departmental Papers (CIS)
Subject
CPS Model-Based Design
Software Engineering
Systems Architecture
Contributor
Abstract
We present a toolset for the behavioral verification and validation of architectural models of embedded systems expressed in the language AADL. The toolset provides simulation and timing analysis of AADL models. Underlying both tools is a process-algebraic implementation of AADL semantics. The common implementation of the semantics ensures consistency in the analysis results between the tools.
Conference name
Departmental Papers (CIS)
Date Range for Data Collection (Start Date)
Date Range for Data Collection (End Date)
Digital Object Identifier
Comments
14th International Conference on Reliable Software Technologies (Ada-Europe 2009), Brest, France, June 8-12, 2009 .
Collection