Congruences for Visibly Pushdown Languages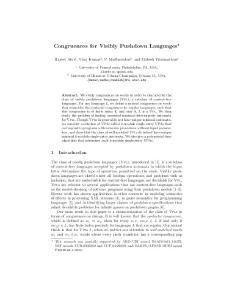 Files
Penn collection
Departmental Papers (CIS)
Subject
CPS Formal Methods
CPS Theory
Contributor
Abstract
We study congruences on words in order to characterize the class of visibly pushdown languages (VPL), a subclass of context-free languages. For any language L, we define a natural congruence on words that resembles the syntactic congruence for regular languages such that this congruence is of finite index if, and only if, L is a VPL. We then study the problem of finding canonical minimal deterministic automata for VPLs. Though VPLs in general do not have unique minimal automata, we consider a subclass of VPAs called k-module single-entry VPAs that correspond to programs with recursive procedures without input parameters, and show that the class of well-matched VPLs do indeed have unique minimal k-module single-entry automata. We also give a polynomial time algorithm that minimizes such k-module single-entry VPAs.
Conference name
Departmental Papers (CIS)
Date Range for Data Collection (Start Date)
Date Range for Data Collection (End Date)
Digital Object Identifier
Comments
From the 32nd International Colloquium, ICALP 2005, Lisbon, Portugal, July 11-15, 2005.
<br>Postprint version. Published in <i>Lecture Notes in Computer Science</i>, 32nd International Colloqium on Automata, Languages, and Programming, 2005.<br><p>
Collection