How Does Retirement Planning Software Handle Postretirement Realities?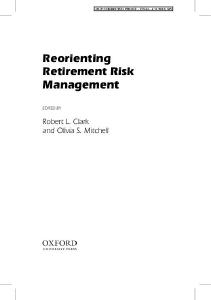 Penn collection
Wharton Pension Research Council Working Papers
Contributor
Abstract
Many risks must be managed during the post-retirement period. This chapter explores retirement planning software that provides individuals and advisors the opportunity to perform a range of calculations to help them in retirement planning. We link results from surveys and research by the Society of Actuaries to show how the software handles post-retirement risks. We find that approaches to managing these risks are often not well-integrated.
Date Range for Data Collection (Start Date)
Date Range for Data Collection (End Date)
Digital Object Identifier
Comments
<p>The published version of this Working Paper may be found in the 2010 publication: <em><a href="http://pensionresearchcouncil.wharton.upenn.edu/publications/books/reorienting-retirement-risk-management/" target="_blank" title="Reorienting Retirement Risk Management">Reorienting Retirement Risk Management</a>.</em></p>
Collection