Physics-based Tracking of 3D Objects in 2D Image Sequences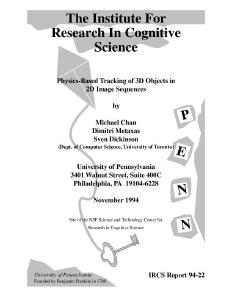 Penn collection
IRCS Technical Reports Series
Contributor
Abstract
We present a new technique for tracking 3D objects in 2D image sequences. We assume that objects are constructed from a class of volumetric part primitives. The models are initially recovered using a qualitative shape recovery process. We subsequently track the objects using local forces computed from image potentials. Therefore, we avoid the expensive computation of image features. By integrating measurements from stereo images, 3D positions(as well as other model parameters) of the objects can be continuously updated using an extended Kalman filter. Our model-based approach can handle occlusions in scenes with multiple moving objects by predicting their occurrences. To handle severe or unexpected occlusion we use a feedback mechanism between the quantitative and qualitative shape estimation systems. We demonstrate our technique in experiments involving image sequences from complex motions of objects.
Date Range for Data Collection (Start Date)
Date Range for Data Collection (End Date)
Digital Object Identifier
Comments
University of Pennsylvania Institute for Research in Cognitive Science Technical Report No. IRCS-94-22.
Collection