XTAG System - A Wide Coverage Grammar for English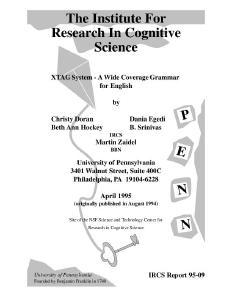 Files
Penn collection
IRCS Technical Reports Series
Contributor
Abstract
This paper presents the XTAG system, a grammar development tool based on the Tree Adjoining Grammar (TAG) formalism that includes a wide-coverage syntactic grammar for English. The various components of the system are discussed and preliminary evaluation results from the parsing of various corpora are given. Results from the comparison of XTAG against the IBM statistical parser and the Alvey Natural Language Tool parser are also given.
Date Range for Data Collection (Start Date)
Date Range for Data Collection (End Date)
Digital Object Identifier
Comments
University of Pennsylvania Institute for Research in Cognitive Science Technical Report No. IRCS-95-09.
Collection