ASSESSMENT OF DETERIORATION PHENOMENA ON THE EXTERIOR OF THE SECOND BANK OF THE UNITED STATES, PHILADELPHIA, USING GIS AS AN INTERPRETATIVE TOOL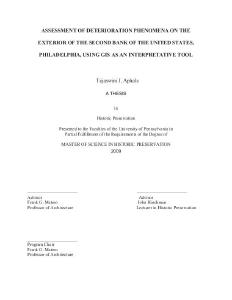 Contributor
Abstract
The Architectural conservation laboratory (ACL) is working on the conservation management plan for Second Bank since 1994. Two surveys were carried out to document deteriorating conditions and previous repairs in 1999 and 2003. These recorded conditions were digitized in AutoCAD and then converted to GIS for further analysis. The purpose of the thesis is to quantify, interpret and analyze the deteriorating conditions and repairs on the exterior marble surface of the Second Bank with the help of ArcGIS. This study attempts to prove the usage of GIS not only for documentation and data storage, but also as an interpretation and analysis tool. GIS makes it easier to process data in various ways in order to explore and understand the relationships between various deteriorating conditions and factors responsible for them. This study suggested that deterioration on the Second Bank is result of not only one but combination of the mechanical, chemical, environmental processes as well as exposure and orientation of the surfaces. GIS proved to be a great tool in finding answers to various questions regarding deterioration of the exterior marble surface of the Second Bank. Therefore, this study is successful in proving the importance of GIS as useful interpretative tool.
Date Range for Data Collection (Start Date)
Date Range for Data Collection (End Date)
Digital Object Identifier
Comments
A thesis in Historic Preservation Presented to the Faculties of the University of Pennsylvania in Partial Fulfillment of the Requirements of the Degree of MASTER OF SCIENCE IN HISTORIC PRESERVATION, 2009.
Collection