Active Motion-Based Segmentation of Human Body Outlines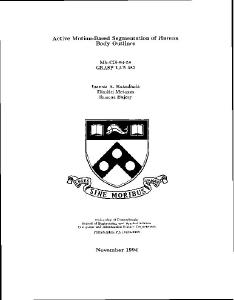 Files
Penn collection
Technical Reports (CIS)
General Robotics, Automation, Sensing and Perception Laboratory
Contributor
Abstract
We present an integrated approach towards the segmentation and shape estimation of human body outlines. Initially, we assume that the human body consists of a single part, and we fit a deformable model to the given data using our physics-based shape and motion estimation framework. As an actor attains different postures, new protrusions emerge on the outline. We model these changes in the shape using a new representation scheme consisting of a parametric composition of deformable models. This representation allows us to identify the underlying human parts that gradually become visible, by monitoring the evolution of shape and motion parameters of the composed models. Based on these parameters, their joint locations are identified. Our algorithm is applied iteratively over subsequent frames until all moving parts are identified. We demonstrate our technique in a series of experiments with very encouraging results.
Date Range for Data Collection (Start Date)
Date Range for Data Collection (End Date)
Digital Object Identifier
Comments
University of Pennsylvania Department of Computer and Information Science Technical Report No. MS-CIS-94-58.
Collection