Building a Large Annotated Corpus of English: The Penn Treebank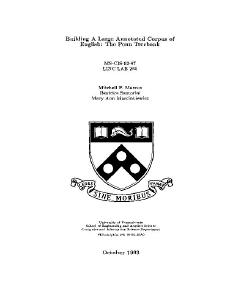 Files
Contributor
Abstract
In this paper, we review our experience with constructing one such large annotated corpus--the Penn Treebank, a corpus consisting of over 4.5 million words of American English. During the first three-year phase of the Penn Treebank Project (1989-1992), this corpus has been annotated for part-of-speech (POS) information. In addition, over half of it has been annotated for skeletal syntactic structure.
Date Range for Data Collection (Start Date)
Date Range for Data Collection (End Date)
Digital Object Identifier
Comments
University of Pennsylvania Department of Computer and Information Science Technical Report No. MS-CIS-93-87.
Collection