A General Framework for Hybrid Substructural Categorial Logics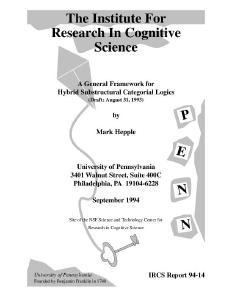 Files
Penn collection
IRCS Technical Reports Series
Contributor
Abstract
Some recent categorial proposals have employed structural modalities, modal operators which allow explicit management of resource sensitivity in linguistic derivation. Various theoretical, computational and practical problems arise for the use of such operators. I propose an alternative general model of hybrid substructural systems, in which different substructural logics (i.e. logics differing in their resource usage characteristics) are brought together into a single system, and which eliminates the need of structural modalities by exploiting natural relations between different substructural levels in terms of the relative informativeness of their characterizations. Under this model, the range of substructural levels form a single unified descriptive system, which should facilitate writing grammars for individual languages, and provide a better basis for cross-linguistic generalization.
Date Range for Data Collection (Start Date)
Date Range for Data Collection (End Date)
Digital Object Identifier
Comments
University of Pennsylvania Institute for Research in Cognitive Science Technical Report No. IRCS-94-14.
Collection