Comparative experiments with a new adaptive controller for robot arms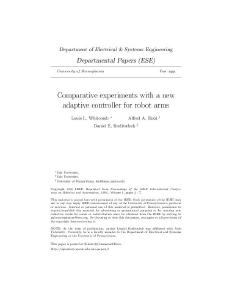 Penn collection
Departmental Papers (ESE)
General Robotics, Automation, Sensing and Perception Laboratory
Kod*lab
Contributor
Abstract
This paper presents a new adaptive controller and proof of its global asymptotic stability with respect to the standard rigid body model of robot arm dynamics. Experimental data from a study of this and other globally asymptotically stable adaptive controllers on two very different robot arms (i) reconciles several previous contrasting empirical studies (ii) demonstrates and compares their superior tracking performance (iii) examines contexts which com promise their advantage.
Conference name
Departmental Papers (ESE)
Date Range for Data Collection (Start Date)
Date Range for Data Collection (End Date)
Digital Object Identifier
Comments
Copyright 1991 IEEE. Reprinted from Proceedings of the IEEE International Conference on Robotics and Automation, Volume 1, 1991, pages 2-7. This material is posted here with permission of the IEEE. Such permission of the IEEE does not in any way imply IEEE endorsement of any of the University of Pennsylvania's products or services. Internal or personal use of this material is permitted. However, permission to reprint/republish this material for advertising or promotional purposes or for creating new collective works for resale or redistribution must be obtained from the IEEE by writing to pubs-permissions@ieee.org. By choosing to view this document, you agree to all provisions of the copyright laws protecting it. NOTE: At the time of publication, author Daniel Koditschek was affiliated with Yale University. Currently, he is a faculty member in the Department of Electrical and Systems Engineering at the University of Pennsylvania.
Collection