Efficient Parsing for CCGs with Generalized Type-Raised Categories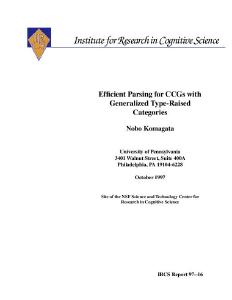 Files
Penn collection
IRCS Technical Reports Series
Contributor
Abstract
A type of 'non-traditional constituents' motivates an extended class of Combinatory Categorial Grammars, CCGs with Generalized Type-Raised Categories (CCG-GTRC) involving variables. Although the class of standard CCGs is known to be polynomially parsable, use of variables suggests more complexity for processing GTRCs. This paper argues that polynomial parsing is still possible for CCG-GTRC from practical and theoretical points of view. First, we show that an experimental parser runs polynomially in practice on a realistic fragment of Japanese by eliminating spurious ambiguity and excluding genuine ambiguities. Then, we present a worst-case polynomial recognition algorithm for CCG-GTRC by extending the polynomial algorithm for the standard CCGs.
Date Range for Data Collection (Start Date)
Date Range for Data Collection (End Date)
Digital Object Identifier
Comments
University of Pennsylvania Institute for Research in Cognitive Science Technical Report No. IRCS-97-16.
Collection