How does the composition of a cultural district influence its sustainability?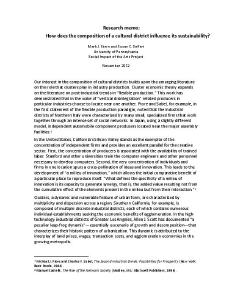 Penn collection
CultureBlocks Philadelphia
Subject
Arts and Humanities
Public Policy
Social Welfare
Urban Studies and Planning
Contributor
Abstract
This research memo tests out different methods for identifying and classifying cultural clusters and estimating changes in Philadelphia clusters between 1997 and 2010. It concludes that block groups with a complex cultural ecology are more likely to retain their status, while those with a single strength are more likely to suffer a loss of resources (or at least a smaller gain) and a decline in overall position in the citywide cultural sector.
Date Range for Data Collection (Start Date)
Date Range for Data Collection (End Date)
Digital Object Identifier
Comments
<p>This paper was a product of the partnership of Reinvestment Fund and PolicyMap; the City of Philadelphia Office of Arts, Culture and the Creative Economy (OACCE) and Department of Commerce; and the University of Pennsylvania, Social Impact of the Arts Project (SIAP) with support by the National Endowment for the Arts (NEA Our Town Program) and ArtPlace America.</p>
Collection