Subsumption Architecture and Discrete Event Systems: A Comparison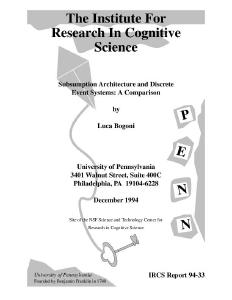 Penn collection
IRCS Technical Reports Series
Contributor
Abstract
In this paper we review Subsumption Architecture and Discrete Event Systems. These approaches present diverse methodologies for dealing with control of interactions. They often take diametrically opposite directions in addressing specific issues. Subsumption architecture expects limited knowledge of the environment, no explicit representation, limited reasoning capabilities and no centralized control. At the other extreme lies Discrete Event Systems, which require, at least in manufacturing and communication: a well-structured environment; explicit representations and models; and have limited reasoning capabilities and centralized control. Both offer benefits and limitations which should really be evaluated and traded off when attempting to build a system. However, combining aspects from these two approaches will not address and resolve all issues. We conclude that while both approaches are powerful there is more to intelligence than just behavior and control, and discuss the limitations and benefits entailed by both.
Date Range for Data Collection (Start Date)
Date Range for Data Collection (End Date)
Digital Object Identifier
Comments
University of Pennsylvania Institute for Research in Cognitive Science Technical Report No. IRCS-94-33.
Collection