Financial Advice: Does it Make a Difference?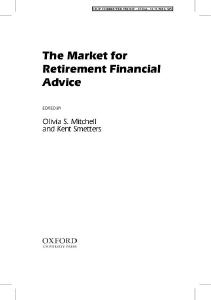 Penn collection
Wharton Pension Research Council Working Papers
Subject
Household finance
financial planning
financial advice
agency costs
fiduciary regulation
consumer economics
Economics
Author
Contributor
Abstract
The financial advice profession provides a potentially valuable service to consumers within an increasingly complex financial marketplace. Financial advice professionals can substitute for costly investment in financial knowledge by households. This chapter provides evidence that financial advisers can improve financial outcomes when the interests of the advisor and household are aligned. Yet professional advice can harm consumers if conflicts of interest create high agency costs. Understanding how differences in compensation methods and regulatory frameworks affect incentives is essential to improving the breadth and quality of professional advice.
Date Range for Data Collection (Start Date)
Date Range for Data Collection (End Date)
Digital Object Identifier
Comments
<p>The published version of this Working Paper may be found in the 2013 publication: <em><a href="http://pensionresearchcouncil.wharton.upenn.edu/publications/books/the-market-for-retirement-financial-advice/" target="_blank" title="The Market for Retirement Financial Advice">The Market for Retirement Financial Advice</a>.</em></p>
Collection