Critiquing: Effective Decision Support In Time-Critical Domains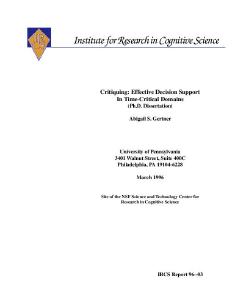 Graduate group
IRCS Technical Reports Series
Contributor
Abstract
The TraumAID system is a tool for assisting physicians during the initial definitive management phase of patients with severe injuries. Originally, TraumAID was conceived as a rule-based expert system combined with a planner. After this architecture had been implemented and evaluated, we began to face the issue of how TraumAID could communicate its plans to physicians in order to influence their behavior and have a positive effect on patient outcome. It was hypothesized that a critiquing approach, in which the system is told what actions the user intends to carry out and produces a critique in response to those intentions, might be appropriate. To meet the needs of physicians engaged in managing trauma cases, critiques must be updated and made available rapidly. They must be clear and succinct, containing only relevant information while still including enough justification to make them convincing. To address the need for these features in the system, I have developed a critiquing architecture consisting of three components, incremental plan recognition, plan evaluation, and critique generation. I have implemented this architecture in TraumaTIQ, a critiquing interface for the TraumAID system. Comparison of TraumaTIQs comments on 97 actual management plans with comments made by three local trauma experts showed that TraumaTIQ produced 48.3% of comments made by only one judge, and 70.27% of comments made by two or more judges. This relationship between inter-judge agreement and judge-system agreement is statistically significant. In addition, regression analysis shows that TraumaTIQs plan evaluator is a significant predictor of the judges' overall case ratings. This approach to communicating with physicians in time critical domains has the advantage that it is user-focused, minimally intrusive, and quick to respond to potential errors even on the basis of partial information. Unlike previously developed reminder and alert systems, TraumaTIQ evaluates the physician's proposed plan and attempts to intervene before problems occur. And unlike previous critiquing systems, it is able to provide ongoing decision support during the planning and delivery of care. In the context of time-critical patient management it is, therefore, a more appropriate form of interaction.
Date Range for Data Collection (Start Date)
Date Range for Data Collection (End Date)
Digital Object Identifier
Comments
University of Pennsylvania Institute for Research in Cognitive Science Technical Report No. IRCS 96-03.
Collection