Designing and using experiential exercises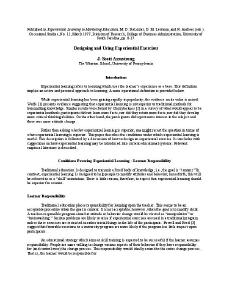 Contributor
Abstract
Introduction: Experiential learning refers to learning which uses the learner's experience as a base. This definition implies an active and personal approach to learning. A more operational definition is provided below. While experiential learning has been gaining rapidly in popularity, the evidence on its value is mixed. Wolfe [1] presents evidence suggesting that experiential learning is not superior to traditional methods for transmitting knowledge. Similar results were found by Cherryholmes [2] in a survey of what would appear to be experiential methods; participants did not learn more facts, nor did they retain more facts, nor did they develop more critical thinking abilities. On the other hand, the participants did report more interest in the subject and there was more attitude change. Rather than asking whether experiential learning is superior, one might recast the question in terms of when experiential learning is superior. This paper describes the conditions under which experiential learning is useful. This description is followed by a discussion of how to design an experiential exercise. It concludes with suggestions on how experiential learning may be introduced into current educational systems. Relevant empirical literature is described.
Date Range for Data Collection (Start Date)
Date Range for Data Collection (End Date)
Digital Object Identifier
Comments
Published in M. D. DeLozier, D. M. Lewison, and R. Andress (eds.), <em>Experiential Learning in Marketing Education</em>, Occasional Studies, Number 11, March 1977, pages 8-17, Division of Research, College of Business Administration, University of South Carolina. The author has asserted his/her right to include this material in <em>Scholarly</em>Commons@Penn.
Collection