Risk Disclosure in the European Insurance Industry: Implications for Occupational Pension Funds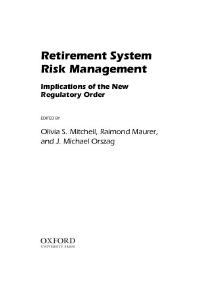 Penn collection
Wharton Pension Research Council Working Papers
Subject
Solvency II
occupational pension funds
solvency balance sheet
holistic balance sheet
risk and solvency assessment
pension benefit statement
Contributor
Abstract
Risk disclosure in the European insurance industry will be profoundly influenced by Solvency II rules seeking to improve transparency in the insurance sector. Attempts to extend this reform to occupational pension funds face considerable difficulties. This chapter describes the recent European Union reforms in prudential regulation for insurance undertakings and occupational pension funds. We compare both sectors and describe how differences between both types of institutions might justify differences in risk disclosure. We conclude that, because of the growing importance of defined contribution (DC) pension schemes, risk disclosure is important for both DC and defined benefit (DB) schemes.
Date Range for Data Collection (Start Date)
Date Range for Data Collection (End Date)
Digital Object Identifier
Comments
The published version of this Working Paper may be found in the 2016 publication: Retirement System Risk Management (https://pensionresearchcouncil.wharton.upenn.edu/retirement-system-risk-management-2/).
Collection