Responsive Math Teaching Model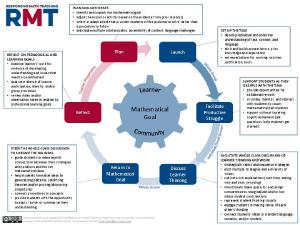 Subject
Teaching and Learning
education
teaching
math
teacher learning
professional development
math education
mathematics
instructional model
math classroom
instruction
Education
Author
Responsive Math Teaching Project
Contributor
Abstract
The Responsive Math Teaching (RMT) Model breaks high-quality math teaching down into six core components:
Plan: Select or adapt an appropriate task, identify the mathematical goal(s), and anticipate possible solution paths and challenges.
Launch: Set up the task so that students understand the problem and can access the important mathematics.
Facilitate productive struggle: Support students to engage in authentic problem solving.
Discuss learner thinking: Facilitate the sharing of student strategies and reasoning and engage students in making sense of each otherâ s thinking.
Return to mathematical goal: Guide students to make explicit connections between strategies and solutions and the key mathematical ideas.
Reflect: Reflect on pedagogical and learning goals to determine next steps.
Date Range for Data Collection (Start Date)
Date Range for Data Collection (End Date)
Digital Object Identifier
Collection