Curating Architecture: An Investigation of the Motives and Practice of Architectural Collection and Exhibition with Recommendations for Interpretation of the Architectural Study Collection at Independence National Historical Park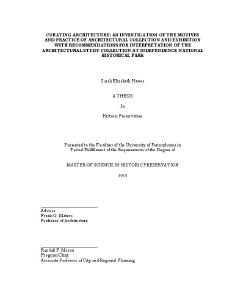 Subject
Historic Preservation; Independence National Historical Park
Architecture
Historic Preservation and Conservation
Contributor
Abstract
This thesis examines the history, theory and practice of collecting and exhibiting architecture as a context from which cultural resource management guidelines for the interpretation of architectural fragment collections is generated. The Independence National Historical Park Architectural Study Collection serves as a case study to apply this framework as the National Park Service prepares to design and curate an interpretive exhibit for a representative selection of the collection.
Date Range for Data Collection (Start Date)
Date Range for Data Collection (End Date)
Digital Object Identifier
Comments
<p> Suggested Citation: <br> Hawes, Sarah Elizabeth. (2010) "Curating Architecture: An Investigation of the Motives and Practice of Architectural Collection and Exhibition with Recommendations for Interpretation of the Architectural Study Collection at Independence National Historical Park." (Masters Thesis). University of Pennsylvania, Philadelphia, PA.
Collection