Regulating Markets for Retirement Payouts: Solvency, Supervision, and Credibility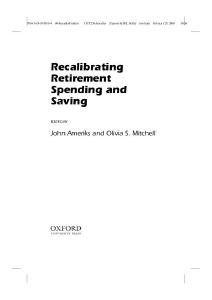 Penn collection
Wharton Pension Research Council Working Papers
Subject
financial loss
retiree protection
401(k)
social security
financial management
Economics
Contributor
Abstract
Soon the largest cohort of workers in U.S. history will be eligible to retire. Most will have only their personal saving and a lump-sum benefit from a 401(k) plan to supplement Social Security benefits during retirement. The proceeds of these 401(k) and IRA benefits represent the largest amount of money these individuals have ever managed, and the challenges and hazards they face are enormous. This chapter evaluates the regulatory and enforcement structures in place to protect individuals from financial loss through the insolvency, fiscal mismanagement, and/or malfeasance of those who help them manage and invest their retirement distributions.
Date Range for Data Collection (Start Date)
Date Range for Data Collection (End Date)
Digital Object Identifier
Comments
The published version of this Working Paper may be found in the 2008 publication: Recalibrating Retirement Spending and Saving (https://pensionresearchcouncil.wharton.upenn.edu/publications/books/recalibrating-retirement-spending-and-saving/).
Collection