Kinematic Control of Human Postures for Task Stimulation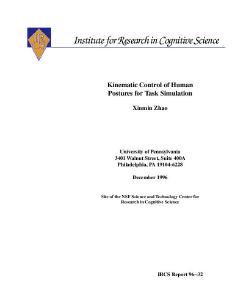 Files
Graduate group
IRCS Technical Reports Series
Contributor
Abstract
Kinematic control of human postures for task simulation is important in human factor analysis, simulation and training. It is a challenge to control the postures of a synthesized human figure in real-time on today's graphics workstations because the human body is highly articulated. In addition, we need to consider many spatial restrictions imposed on the human body while performing a task. In this study, we simplify the human posture control problem by decoupling the degrees of freedom (dof) in the human body. Based on several decoupling schemes, we develop an analytical human posture control algorithm. This analytical algorithm has a number of advantages over existing methods. It eliminates the local minima problem, it is efficient enough to control whole human body postures in real-time, and it provides more effective and convenient control over redundant degrees of freedom. The limitation of this algorithm is that it cannot handle over-constrained problems or general constraint functions. To overcome this limitation, we transform the human posture control problem from a 40 variable joint space to a 4 to 9 redundancy parameter space. We then apply nonlinear optimization techniques on the transformed problem. Because the search space is reduced, this new numerical algorithm is more likely to find a solution than existing methods which apply optimization techniques directly in the joint space. The contributions of this thesis include a decoupling approach for simplifying the human posture control problem, an analytical human posture control algorithm based on this decoupling approach, and a numerical human posture control algorithm in redundancy parameter space. These two new algorithms are more efficient and effective than existing methods, and they also give the user control to select the desired solution. Moreover, the analytical algorithm can control postures of a few 92 dof human figures at 30 Hz.
Date Range for Data Collection (Start Date)
Date Range for Data Collection (End Date)
Digital Object Identifier
Comments
University of Pennsylvania Institute for Research in Cognitive Science Technical Report No. IRCS-96-32.
Collection