Kidz in the 'Hood: Syntactic Bootstrapping and the Mental Lexicon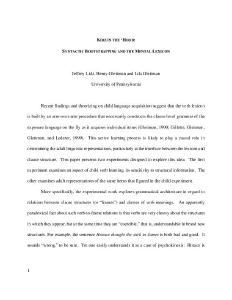 Penn collection
IRCS Technical Reports Series
Contributor
Abstract
This paper explores the limits of syntactic bootstrapping and demonstrates that the use of syntactic structure to build verb meanings is constrained to operate only within 'frame neighborhoods,' i.e., complement types that antecedently share formal and interpretive features. The results suggest that inferences over change in number of arguments are easier than inferences over change in type of arguments. This kind of finding establishes the limits within which the 'syntactic bootstrapping' paradigm for verb learning can operate, and also has implications for whether we should think about the architecture of the lexicon in projectionist or constructionist terms.
Date Range for Data Collection (Start Date)
Date Range for Data Collection (End Date)
Digital Object Identifier
Comments
University of Pennsylvania Institute for Research in Cognitive Science Technical Report No. IRCS-01-01.
Collection