The Outlook for Financial Literacy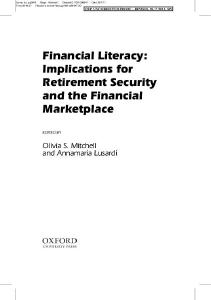 Penn collection
Wharton Pension Research Council Working Papers
Contributor
Abstract
As the world becomes more financially integrated and complex, average individuals and their families are increasingly faced with making highly sophisticated and all-too-often irreversible financial decisions. Nowhere is this more evident than with regard to retirement decision-making. Indeed, the global financial crisis suggests that poor financial decision-making can have substantial costs not only for individuals but also society at large. This volume focuses on key lessons for financial decision-making in the wake of that crisis, exploring how financial literacy can enhance peoples' skills and abilities to make more informed economic choices.
Date Range for Data Collection (Start Date)
Date Range for Data Collection (End Date)
Digital Object Identifier
Comments
The published version of this Working Paper may be found in the 2011 publication: Financial Literacy: Implications for Retirement Security and the Financial Marketplace http://pensionresearchcouncil.wharton.upenn.edu/publications/books/financial-literacy-implications-for-retirement-security-and-the-financial-marketplace/).
Collection