A New Method for Attributing Changes in Life Expectancy to Various Causes of Death, with Application to the United States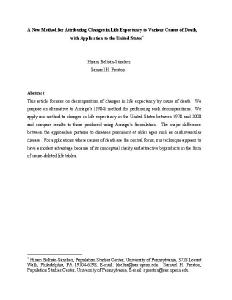 Subject
Aging
Arriaga
Birth
Births
Cause-deleted life table
Cause of death
Causes of death
Census
Census Bureau
Centers for Disease Control and Prevention
Das Gupta
Data
Death
Decomposition techniques
Decompositional methods
Demographic measures
Demography
Disease
Kitagawa
Life expectancy
Life Tables
Longevity
Morbidity
Mortality
National Center for Health Statistics
Race
Sex
Statistical modeling
Statistics
United States
United States Census Bureau
Demography, Population, and Ecology
Social and Behavioral Sciences
Sociology
Contributor
Abstract
This article focuses on decomposition of changes in life expectancy by cause of death. We propose an alternative to Arriaga's (1984) method for performing such decompositions. We apply our method to changes in life expectancy in the United States between 1970 and 2000 and compare results to those produced using Arriaga's formulation. The major difference between the approaches pertains to diseases prominent at older ages such as cardiovascular disease. For applications where causes of death are the central focus, our technique appears to have a modest advantage because of its conceptual clarity and attractive byproducts in the form of cause-deleted life tables.
Date Range for Data Collection (Start Date)
Date Range for Data Collection (End Date)
Digital Object Identifier
Comments
Beltrán-Sánchez, Hiram and Samuel H. Preston. 2007. "A New Method for Attributing Changes in Life Expectancy to Various Causes of Death, with Application to the United States." <i>PSC Working Paper Series</i> PSC 07-01.
Collection