Deformable Model Based Shape Analysis Stone Tool Application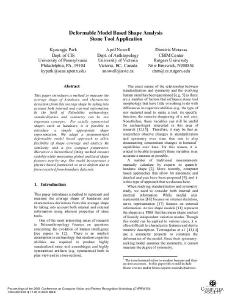 Penn collection
Departmental Papers (CIS)
Contributor
Abstract
This paper introduces a method to measure the average shape of handaxes, and characterize deviations from this average shape by taking into account both internal and external information. In the field of Paleolithic archaeology, standardization and symmetry can be two important concepts. For axially symmetrical shapes such as handaxes, it is possible to introduce a simple appropriate shape representation. We adapt a parameterized deformable model based approach to allow flexibility of shape coverage and analyze the similarity with a few compact parameters. Moreover a hierarchical fitting method ensures stability while measuring global and local shape features step-by-step. Our model incorporates a physics-based framework so as to deform due to forces exerted from boundary data sets.
Conference name
Departmental Papers (CIS)
Date Range for Data Collection (Start Date)
Date Range for Data Collection (End Date)
Digital Object Identifier
Comments
Suggested Citation: <br> Park, K., A. Nowell and D. Metaxas. (2003). Deformable Model Based Shape Analysis Stone Tool Application. <em>Proceedings of the 2003 Conference on Computer Vision and Pattern Recognition Workshop.</em> Madison, Wisconsin. June 16-22, 2003. <br><br> ©2003 IEEE. Personal use of this material is permitted. However, permission to reprint/republish this material for advertising or promotional purposes or for creating new collective works for resale or redistribution to servers or lists, or to reuse any copyrighted component of this work in other works must be obtained from the IEEE.
Collection