Representation of Actions as an Interlingua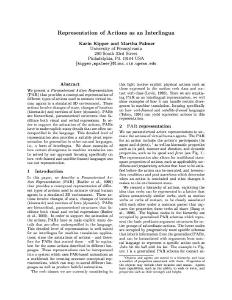 Files
Penn collection
Center for Human Modeling and Simulation
Contributor
Abstract
We present a Parameterized Action Representation (PAR) that provides a conceptual representation of different types of actions used to animate virtual human agents in a simulated 3D environment. These actions involve changes of state, changes of location (kinematic) and exertion of force (dynamic). PARs are hierarchical, parameterized structures that facilitate both visual and verbal expressions. In order to support the animation of the actions, PARs have to make explicit many details that are often underspecified in the language. This detailed level of representation also provides a suitable pivot representation for generation in other natural languages, i.e., a form of interlingua. We show examples of how certain divergences in machine translation can be solved by our approach focusing specifically on how verb-framed and satellite-framed languages can use our representation.
Conference name
Center for Human Modeling and Simulation
Date Range for Data Collection (Start Date)
Date Range for Data Collection (End Date)
Digital Object Identifier
Comments
Posptrint version. Published in <em>Workshop on Applied Interlinguas: Practical Applications of Interlingual Approaches to NLP</em>, in conjunction with ANLP-NAACL 2000, six pages.
Collection