The Question of Root Infinitives in Early Child Greek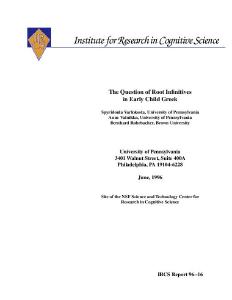 Penn collection
IRCS Technical Reports Series
Contributor
Abstract
It is well known that children acquiring Germanic and Romance languages go through an early stage at which they produce declarative sentences with a Root Infinitive (cf. (1)) which would be ungrammatical in the adult language (Stern & Stern 1928, Weverink 1989, Pierce 1992, Wexler 1994). For languages outside of these language families, little work has been done on such Root Infinitives. In the present paper we investigate the status of Root Infinitives in Modern Greek, a language which lacks an infinitive form altogether.
Date Range for Data Collection (Start Date)
Date Range for Data Collection (End Date)
Digital Object Identifier
Comments
University of Pennsylvania Institute for Research in Cognitive Science Technical Report No. IRCS-96-16.
Collection