Proving Memory Management Invariants for a Language Based on Linear Logic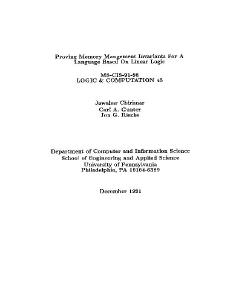 Files
Contributor
Abstract
We develop a tool for the rigorous formulation and proof of properties of runtime memory management for a sample programming language based on a linear type system. Two semantics are described, one at a level of observable results of computations and one that describes linear connectives in terms of memory-management primitives. The two semantics are proven equivalent and the memory-management model is proven to satisfy fundamental correctness criteria for reference counts.
Date Range for Data Collection (Start Date)
Date Range for Data Collection (End Date)
Digital Object Identifier
Comments
University of Pennsylvania Department of Computer and Information Science Technical Report No. MS-CIS-91-98.
Collection