Dynamics and Generation of Gaits for a Planar Rollerblader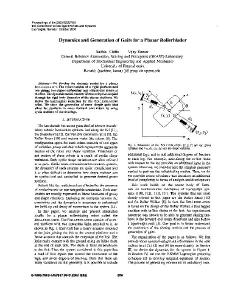 Files
Penn collection
Departmental Papers (MEAM)
General Robotics, Automation, Sensing and Perception Laboratory
Contributor
Abstract
We develop the dynamic model for a planar ROLLERBLADER. The robot consists of a rigid platform and two planar, two degree-of-freedom legs with in-line skates at the foot. The dynamic model consists of two unicycles coupled through the rigid body dynamics of the planar platform. We derive the Lagrangian reduction for the ROLLERBLADING robot. We show the generation of some simple gaits that allow the platform to move forward and rotate by using cyclic motions of the two legs.
Conference name
Departmental Papers (MEAM)
Date Range for Data Collection (Start Date)
Date Range for Data Collection (End Date)
Digital Object Identifier
Comments
Copyright 2003 IEEE. Reprinted from <i>Proceedings of the 2003 IEEE/RSJ International Conference on Intelligent Robots and Systems (IROS 2003)</i>, Volume 1, pages 860-865. <br><br> This material is posted here with permission of the IEEE. Such permission of the IEEE does not in any way imply IEEE endorsement of any of the University of Pennsylvania's products or services. Internal or personal use of this material is permitted. However, permission to reprint/republish this material for advertising or promotional purposes or for creating new collective works for resale or redistribution must be obtained from the IEEE by writing to pubs-permissions@ieee.org. By choosing to view this document, you agree to all provisions of the copyright laws protecting it.
<br>Copyright 2003 IEEE. Reprinted from <i>Proceedings of the International Conference on Intelligent Robots and Systems</i>, pages 860-865 vol. 1. <br><br> This material is posted here with permission of the IEEE. Such permission of the IEEE does not in any way imply IEEE endorsement of any of the University of Pennsylvania's products or services. Internal or personal use of this material is permitted. However, permission to reprint/republish this material for advertising or promotional purposes or for creating new collective works for resale or redistribution must be obtained from the IEEE by writing to pubs-permissions@ieee.org. By choosing to view this document, you agree to all provisions of the copyright laws protecting it. <br><p>
Collection