Goal-Directed Diagnosis - Diagnostic Reasoning in Exploratory-Corrective Domains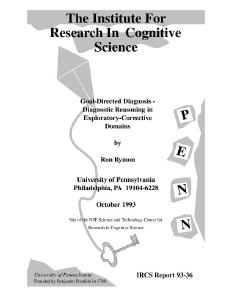 Files
Penn collection
IRCS Technical Reports Series
Contributor
Abstract
In many diagnosis-and-repair domains, diagnostic reasoning cannot be abstracted from repair actions, nor from actions necessary to obtain diagnostic information. In general, in exploratory-corrective domains an agent has to interleave exploratory activity with activity aimed at achieving its goals. In TraumAID 2.0, a consultation system for multiple trauma management, we implement a reasoning framework for such domains which integrates diagnostic reasoning with planning and action. This paper presents Goal-Directed Diagnosis (GDD), a formalization of TraumAID 2.0's diagnostic reasoning. Taking the view that a diagnosis is only worthwhile to the extent that it can affect repair decisions, GDD uses goals to focus on such. Goals are also useful as a means of communicating with its accompanying planner.
Date Range for Data Collection (Start Date)
Date Range for Data Collection (End Date)
Digital Object Identifier
Comments
University of Pennsylvania Institute for Research in Cognitive Science Technical Report No. IRCS-93-36.
Collection