GRAD-CM2: A Data-Parallel Connectionist Network Simulator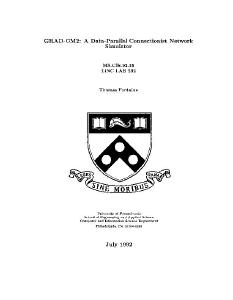 Files
Contributor
Abstract
A data-parallel simulator capable of training recurrent time-delay connectionist networks is described. The simulator, GRAD-CM2, is written in the C* programming language and runs on a Connection Machine CM-2. GRAD-CM2 is an extension of the serial simulator, GRADSIM [8], and offers similar features. Timing performances of GRAD-CM2 and GRADSIM on a series of spatiotemporal discrimination tasks are presented to emphasize the efficacy of data-parallelism.
Date Range for Data Collection (Start Date)
Date Range for Data Collection (End Date)
Digital Object Identifier
Comments
University of Pennsylvania Department of Computer and Information Science Technical Report No. MS-CIS-92-55.
Collection