The Reality of Virtual Environments: WPE II Paper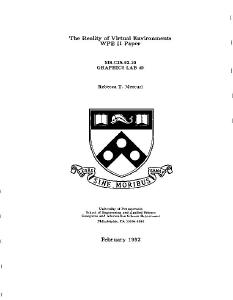 Files
Contributor
Abstract
Recent advances in computer technology have made it now possible to create and display three-dimensional virtual environments for real-time exploration and interaction by a user. This paper surveys some of the research done in this field at such places as: NASA's Ames Research Center, MIT's Media Laboratory, The University of North Carolina at Chapel Hill, and the University of New Brunswick. Limitations to the "reality" of these simulations will be examined, focusing on input and output devices, computational complexity, as well as tactile and visual feedback.
Date Range for Data Collection (Start Date)
Date Range for Data Collection (End Date)
Digital Object Identifier
Comments
University of Pennsylvania Department of Computer and Information Science Technical Report No. MS-CIS-92-10.
Collection