Does television cause autism? A theoretical account.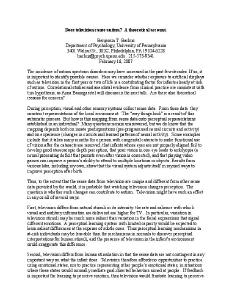 Penn collection
IRCS Technical Reports Series
Subject
autism
perceptual learning
television
Author
Contributor
Abstract
The incidence of autism spectrum disorders may have increased in the past few decades. If so, it is important to identify possible causes. Here we consider whether exposure to artificial displays such as television in the first year or two of life is a contributing factor for infants already at risk of autism. Correlational studies and anecdotal evidence from clinical practice are consistent with this hypothesis. Are there also theoretical reasons for concern?
Date Range for Data Collection (Start Date)
Date Range for Data Collection (End Date)
Digital Object Identifier
Comments
University of Pennsylvania Institute for Research in Cognitive Science Technical Report No. IRCS-07-01.
Collection