Exact robot navigation by means of potential functions: Some topological considerations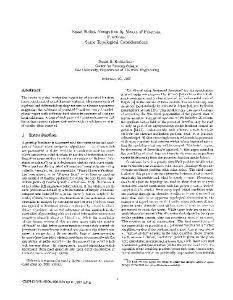 Penn collection
Departmental Papers (ESE)
General Robotics, Automation, Sensing and Perception Laboratory
Kod*lab
Contributor
Abstract
The limits in global navigation capability of potential function based robot control algorithms are explored. Elementary tools of algebraic and differential topology are used to advance arguments suggesting the existence of potential functions over a bounded planar region with arbitrary fixed obstacles possessed of a unique local minimum. A class of such potential functions is constructed for certain cases of a planar disk region with an arbitrary number of smaller disks removed.
Conference name
Departmental Papers (ESE)
Date Range for Data Collection (Start Date)
Date Range for Data Collection (End Date)
Digital Object Identifier
Comments
Copyright 1987 IEEE. Reprinted from Proceedings of the IEEE International Conference on Robotics and Automation, Volume 4, 1987, pages 1-6. This material is posted here with permission of the IEEE. Such permission of the IEEE does not in any way imply IEEE endorsement of any of the University of Pennsylvania's products or services. Internal or personal use of this material is permitted. However, permission to reprint/republish this material for advertising or promotional purposes or for creating new collective works for resale or redistribution must be obtained from the IEEE by writing to pubs-permissions@ieee.org. By choosing to view this document, you agree to all provisions of the copyright laws protecting it. NOTE: At the time of publication, author Daniel Koditschek was affiliated with Yale University. Currently, he is a faculty member in the Department of Electrical and Systems Engineering at the University of Pennsylvania.
Collection