Splurging After Reaching Your Goal: How and When a Used (vs. Unused) Account Affects Consumption Behavior?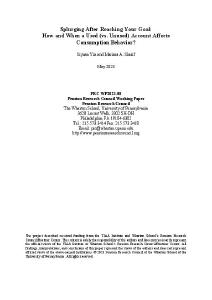 Penn collection
Wharton Pension Research Council Working Papers
Subject
consumption
goal
relative judgments
accounts
partitions
Economics
Contributor
Abstract
How does spending from a used (vs. unused) account affect consumption behavior? In ten studies (N=13,948), we find that consumers are more likely to spend resources on non-essential items from a used (vs. unused) account. This is because consumers perceive they have accomplished their purchase goal when they have relatively less remaining in their account. We demonstrate the robustness of the effect of a used vs. unused account across several domains, including checking accounts, credit card reward points, and gift cards. Further, we demonstrate three boundary conditions of the effect, revealing that the proportion of the account remaining, whether the purchase goal has been reached or not, as well as whether the purchase is on essential vs. non-essential items moderate the subsequent consumption behavior.
Date Range for Data Collection (Start Date)
Date Range for Data Collection (End Date)
Digital Object Identifier
Comments
<p>The project described received funding from the TIAA Institute and Wharton School's Pension Research Council/Boettner Center. The content is solely the responsibility of the authors and does not necessarily represent the official views of the TIAA Institute or Wharton School's Pension Research Council/Boettner Center.</p>
Collection