The Model Concept: Nonprocedural Programming for Nonprogrammers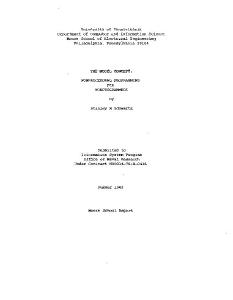 Files
Contributor
Abstract
This text is written as a self-contained guide to learning the MODEL language. MODEL is a radically new concept in nonprocedural programming, designed for use by individuals who do not have extensive computer experience. The text begins with a general introduction to computer concepts and data structures to provide background for the novice programmer. Later chapters cover a general overview of the MODEL language, MODEL language elements, MODEL data declaration, MODEL assertion statements, subscript use in assertions, and control variables. The text also includes an appendix of functions usuable in MODEL and an index. In keeping with the goal of being a self-instructional tool, there is a heavy emphasis on examples, and several complete MODEL specifications are explained in detail.
Date Range for Data Collection (Start Date)
Date Range for Data Collection (End Date)
Digital Object Identifier
Comments
University of Pennsylvania Department of Computer and Information Science Technical Report No. MS-CIS-83-157.
Collection