Innovative Strategies to Finance and Deliver Long-term Care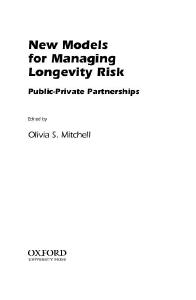 Penn collection
Wharton Pension Research Council Working Papers
Subject
older adults
aging
long-term care
Medicaid
Medicare
long-term care insurance
health savings accounts
assistive technology
telehealth
remote monitoring
predictive analytics
Economics
Contributor
Abstract
Policymakers have long tried and failed to solve the vexing problem of long-term care insurance. The federal Community Living Assistance Services and Supports (CLASS) Act, a voluntary, publicly administered long-term care (LTC) insurance program, was repealed in 2013, and the problem has gone from bad to worse. The number of private insurers offering LTC insurance has plummeted from over 100 in 2002, to about a dozen today. While some of this is due to consolidation, the larger force driving the exit is lack of profitability. This paper explores issues surrounding the LTC market including pricing, modeling, and alternative payment models, to better understand the reasons for market failure. We provide a review of innovative approaches used successfully in other industries, which may serve as a model for new ways to finance and deliver long-term care. Based on interviews with thought leaders across multiple disciplines and industries, we identify three of the most promising solutions: public and private long-term care insurance solutions, Medicare expansion solutions, and technology solutions.
Date Range for Data Collection (Start Date)
Date Range for Data Collection (End Date)
Digital Object Identifier
Comments
The published version of this working paper may be found in the 2022 publication: New Models for Managing Longevity Risk: Public-Private Partnerships (https://pensionresearchcouncil.wharton.upenn.edu/new-models-for-managing-longevity-risk-public-private-partnerships/).
Collection