Plant-Made Oral Vaccines Against Human Infectious Diseases—Are we There yet?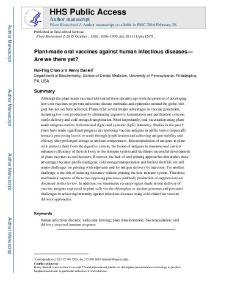 Penn collection
Departmental Papers (Dental)
Subject
human infectious diseases
molecular farming
plant transformation
bioencapsulation
oral delivery
mucosal immune response
Dentistry
Contributor
Abstract
Although the plant-made vaccine field started three decades ago with the promise of developing low-cost vaccines to prevent infectious disease outbreaks and epidemics around the globe, this goal has not yet been achieved. Plants offer several major advantages in vaccine generation, including low-cost production by eliminating expensive fermentation and purification systems, sterile delivery and cold storage/transportation. Most importantly, oral vaccination using plant-made antigens confers both mucosal (IgA) and systemic (IgG) immunity. Studies in the past 5 years have made significant progress in expressing vaccine antigens in edible leaves (especially lettuce), processing leaves or seeds through lyophilization and achieving antigen stability and efficacy after prolonged storage at ambient temperatures. Bioencapsulation of antigens in plant cells protects them from the digestive system; the fusion of antigens to transmucosal carriers enhances efficiency of their delivery to the immune system and facilitates successful development of plant vaccines as oral boosters. However, the lack of oral priming approaches diminishes these advantages because purified antigens, cold storage/transportation and limited shelf life are still major challenges for priming with adjuvants and for antigen delivery by injection. Yet another challenge is the risk of inducing tolerance without priming the host immune system. Therefore, mechanistic aspects of these two opposing processes (antibody production or suppression) are discussed in this review. In addition, we summarize recent progress made in oral delivery of vaccine antigens expressed in plant cells via the chloroplast or nuclear genomes and potential challenges in achieving immunity against infectious diseases using cold-chain-free vaccine delivery approaches.
Date Range for Data Collection (Start Date)
Date Range for Data Collection (End Date)
Digital Object Identifier
Journal title
Plant Biotechnology Journal
Collection