The Trials of Telemachus: Who Was the Odyssey Meant For?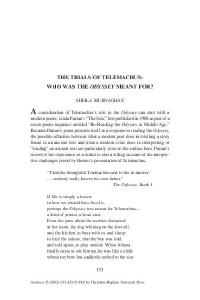 Penn collection
Departmental Papers (Classical Studies)
Subject
Arts and Humanities
Classics
Contributor
Abstract
A consideration of Telemachus's role in the Odyssey can start with a modern poem: Linda Pastan's "The Son," first published in 1988 as part of a seven-poem sequence entitled "Re-Reading the Odyssey in Middle Age." Because Pastan's poem presents itself as a response to reading the Odyssey, the possible affinities between what a modern poet does in retelling a story found in an ancient text and what a modern critic does in interpreting or "reading" an ancient text are particularly close to the surface here. Pastan's record of her experience as a reader is also a telling account of the interpretive challenges posed by Homer's presentation of Telemachus.
Date Range for Data Collection (Start Date)
Date Range for Data Collection (End Date)
Digital Object Identifier
Collection