Revisiting Sophocles' Poimenes: Tragedy or Satyr Play?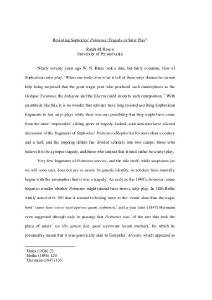 Penn collection
Departmental Papers (Classical Studies)
Contributor
Date Range for Data Collection (Start Date)
Date Range for Data Collection (End Date)
Digital Object Identifier
Comments
Postprint version. Published in <em>Shards from Kolonos: studies in Sophoclean fragments</em>, edited by Alan H. Sommerstein, Rane Series, Studi 34 (Bari, Italy: Levante Editori, 2003), pages 373-386. The author has asserted his right to include this material in ScholarlyCommons@Penn.
Collection