Diffusion Models for Peer-to-Peer (P2P) Media Distribution: On the Impact of Decentralized, Constrained Supply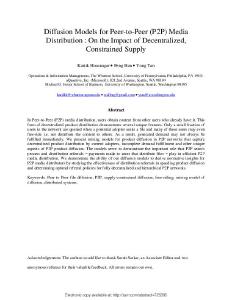 Penn collection
Operations, Information and Decisions Papers
Subject
Peer to Peer file diffusion
P2P
supply-constrained diffusion
free-riding
mixing model of diffusion
distributed systems.
Communication Technology and New Media
Other Communication
Other Social and Behavioral Sciences
Contributor
Abstract
In Peer-to-Peer (P2P) media distribution, users obtain content from other users who already have it. This form of decentralized product distribution demonstrates several unique features. Only a small fraction of users in the network are queried when a potential adopter seeks a file and many of these users may even free-ride i.e. not distribute the content to others. As a result, generated demand may not always be fulfilled immediately. We present mixing models for product diffusion in P2P networks that capture decentralized product distribution by current adopters, incomplete demand fulfillment and other unique aspects of P2P product diffusion. The models serve to demonstrate the important role that P2P search process and distribution referrals – payments made to users that distribute files – play in efficient P2P media distribution. We demonstrate the ability of our diffusion models to derive normative insights for P2P media distributors by studying the effectiveness of distribution referrals in speeding product diffusion and determining optimal referral policies for fully decentralized and hierarchical P2P networks.
Date Range for Data Collection (Start Date)
Date Range for Data Collection (End Date)
Digital Object Identifier
Journal title
Inforation and System Research
Collection