Object Exploration Using a Parallel Jaw Gripper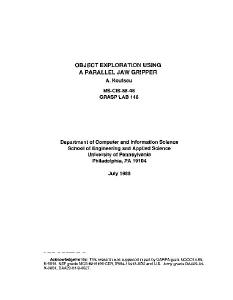 Files
Contributor
Abstract
In this paper we present a system for tactile object exploration. The system is built using a gripper with two parallel fingers, each equipped with a tactile array and a force/torque sensor. We have designed and implemented a set of exploratory procedures for acquiring the following properties: weight, shape, texture, and hardness. The system is successful at extracting these properties from a limited domain of objects. We present a detailed evaluation of the system and the causes of its limitations. The manipulation, motion, and, sensing primitives we have developed in the process of this work could be used for a variety of other tasks, such as model-based recognition, tool manipulation, and assembly.
Date Range for Data Collection (Start Date)
Date Range for Data Collection (End Date)
Digital Object Identifier
Comments
University of Pennsylvania Department of Computer and Information Science Technical Report No. MS-CIS-88-48.
Collection