This is not the latest version of this item. The latest version can be found here.
"Where shall we go?": Race, Displacement, and Preservation at Slabtown and Yorktown Battlefield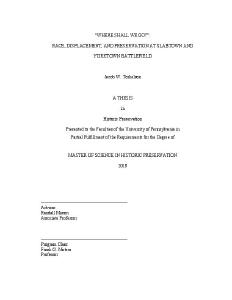 Subject
cultural landscapes
landscape preservation
NPS
contraband
layered
Historic Preservation and Conservation
Contributor
Abstract
Slabtown, a community descended from refugee slaves and freedpersons, existed at Yorktown Battlefield from the 1860s until the 1970s when it was intentionally demolished by the National Park Service. Colonial National Historical Park edited out Slabtown's legacy, wholly disregarding the contributions of African Americans to the heritage of Yorktown Battlefield. Why was this decision made? What happened to Slabtown? And what does this mean for the future of Yorktown Battlefield? This thesis advocates for the preservation of landscape traces in Slabtown, and seeks to prove that the voids and absence of buildings are a powerful preservation and interpretive resource that can augment more traditional methods of historical research and storytelling that are not place-based. Purposeful preservation of the landscape traces gives voice to and empowers an otherwise silenced community. The editing out of Slabtown reveals the problem of traditional National Park Service preservation concepts, tools, and policies; especially as they are applied to cultural landscapes. By establishing Slabtown as a layered site with multiple interwoven narratives, partially present and partially erased, this thesis reveals how other cultural landscapes, when treated as dynamic places with multiple periods of significance, can tell a better and more complete story of a place.
Date Range for Data Collection (Start Date)
Date Range for Data Collection (End Date)
Digital Object Identifier
Comments
<p>Suggested Citation:</p> <p>Torkelson, Jacob (2019). "<em>Where shall we go?": Race, Displacement, and Preservation at Slabtown and Yorktown Battlefield</em> (Masters Thesis). University of Pennsylvania, Philadelphia, PA.</p>
Collection